Modeling the numbers on bottom-up and middle-out economics.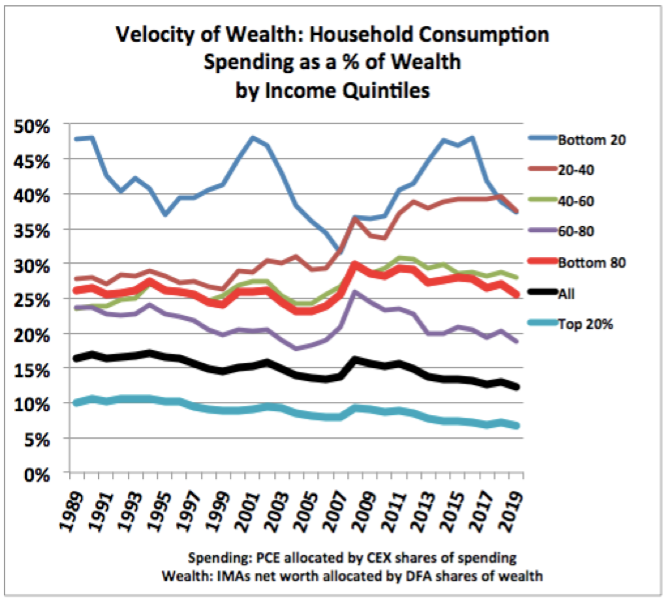 By Steve Roth – You hear a lot about bottom-up and middle-out economics these days, as antidotes to a half-century of "trickle-down" theorizing and rhetoric. You're even hearing it, prominently, from Joe Biden.
They're compelling ideas: put more wealth and income in the hands of millions, or hundreds of millions, and you'll see more economic activity, more prosperity, and more widespread prosperity. To its proponents, it seems deeply intuitive or even obvious, a formula for The American Dream.
But curiously, you don't find much nuts and bolts economic theory supporting that view of how economies work. There's been lots of research on the sources and causes of wealth and income concentration. There's been a lot of important work on the social and political effects of inequality — separate (though tightly related) issues. But unlike the steady stream of "incentive" theory from Right economists over decades, Left and heterodox economists have largely failed to ask or answer a rather basic theoretical (and empirical) question: what are the purely economic effects of highly-concentrated wealth, held by fewer people, families, and dynasties, in larger and larger fortunes?
In a new paper and model published in Real-World Economics Review, I try to tackle that question. The model takes advantage of national accountants' wealth measures that have only been available since 2006 or 2012 (with coverage back to 1960), and measures of wealth distribution that were only published in 2019. Combined with thirty+ years of consistent survey data on consumer spending at different income levels, the paper derives a novel economic measure: velocity of wealth.
The bottom 80% group turns over its wealth in annual spending three or four times as fast as the top 20%. The arithmetic takeaway: at a given level of wealth, more broadly distributed wealth means more spending: the very stuff of economic activity, which is itself the ultimate source of wealth accumulation.
The details of the model are somewhat more complex, but it only employs five easy to understand formulas — all basically just arithmetic, and all expressed without resort to abstruse symbols; they use plain language. more>