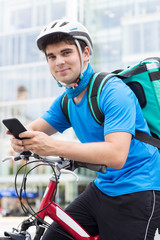 By Steven Hill – Europe, like the United States, has seen dramatic changes in how people work. Compared to 15 years ago, many more people have part-time, temp or mini-jobs, or are self-employed.
These shifts provide a hint about the 'future of work', and have enormous consequences for people's well-being, as well as for the survival of the social welfare system.
In the latest phase of this trend, more people are finding work in the 'digital economy', via online Web- and app-based platforms. As self-employed freelancers, some work from home, others out of the dozens of co-working spaces that populate London, Berlin, Paris, Amsterdam, Copenhagen, Hamburg, Munich and Stockholm. They don't report to a regular workplace or employer, and have flexible work schedules, which is an attractive feature for many.
Other occupations are being 'disrupted' too, including food delivery, house cleaning, apartment rentals and more. These industries use 'platform workers', who receive customers' orders via their smart phones or over the Web.
Silicon Valley likes to call these workers the 'CEOs of their own freelancing business', but that's just techno happy talk.
In reality, many of them spend more time (unpaid) constantly looking for work than actually finding it. They also don't have any job security or much coverage from the social welfare system. Wages for these freelancers vary a lot by occupation – those in the tech industry are high, but other occupations barely earn minimum wage. more> https://goo.gl/nL6HTq