Simulation Supports Program to Help Pilots in Degraded Visual Environments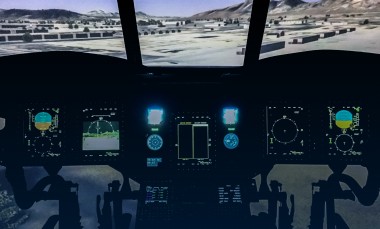 By John Toon – A degraded visual environment occurs when helicopters landing on loose soil, such as desert terrain, stir up dust that creates brownout conditions which make it challenging for pilots to see obstacles on the ground. The simulation will support the development of a multi-sensor system designed to give U.S. Army rotorcraft pilots better situational awareness during these challenging conditions.
GTRI researchers are developing different ways to show fused sensor images to pilots during brownout conditions. In an Army cockpit simulator lab, experienced rotorcraft pilots will use the simulations to determine how information should be presented during high-stress approach, landing and takeoff conditions. The pilot feedback will assist the Army in defining the Pilot Vehicle Interface for the new Degraded Visual Environment (DVE) system that will be used on Black Hawk and Chinook helicopters. It will also be used to inform a milestone decision for integration into the Army aviation platforms.
The simulation project is challenging because the data comes from different sources, at different data rates and different resolutions. The emulator must work accurately under varying conditions, including daytime and nighttime operations. Because the system is used to analyze pilot interaction with the new sensors, the provided solution includes flexibility to easily reconfigure various parameters such as symbology sets, types of sensors, sensor performance characteristics, and symbology color. more>
Related>