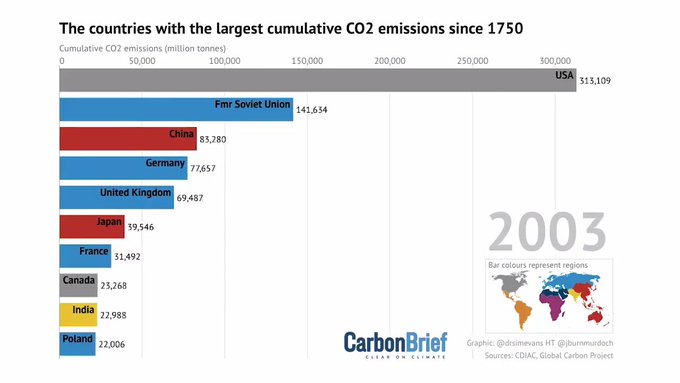 By Umair Irfan – Humans are pumping more carbon dioxide into the atmosphere at an accelerating rate. But climate change is a cumulative problem, a function of the total amount of greenhouse gases that have accumulated in the sky. Some of the heat-trapping gases in the air right now date back to the Industrial Revolution. And since that time, some countries have pumped out vastly more carbon dioxide than others.
The wonderful folks at Carbon Brief have put together a great visual of how different countries have contributed to climate change since 1750. The animation shows the cumulative carbon dioxide emissions of the top emitters and how they've changed over time.
What's abundantly clear is that the United States of America is the all-time biggest, baddest greenhouse gas emitter on the planet.
That's true, despite recent gains in energy efficiency and cuts in emissions. These relatively small steps now cannot offset more than a century of reckless emissions that have built up in the atmosphere. Much more drastic steps are now needed to slow climate change. And as the top cumulative emitter, the US bears a greater imperative for curbing its carbon dioxide output and a greater moral responsibility for the impacts of global warming.
Yet the United States is now the only country aiming to withdraw from the Paris climate agreement. more>