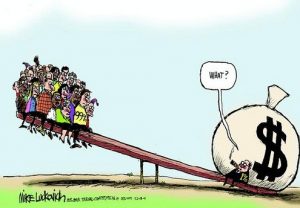 By Angus Deaton – As at no other time in my lifetime, people are troubled by inequality.
Across the rich world, not only in America, large groups of people are currently questioning whether their economies are working for them. The same can be said of politics. Two-thirds of Americans without a college degree believe that there is no point in voting, because elections are rigged in favor of big business and the rich. Britain is divided as never before and, once again, many believe that their voice doesn't count either in Brussels or in Westminster. And one of the greatest miracles of the 20th century, the miracle of falling mortality and rising lifespans, is no longer delivering for everyone, and is now faltering or reversing.
At the risk of grandiosity, I think that today's inequalities are signs that democratic capitalism is under threat, not only in the US, where the storm clouds are darkest, but in much of the rich world, where one or more of politics, economics, and health are changing in worrisome ways. I do not believe that democratic capitalism is beyond repair nor that it should be replaced; I am a great believer in what capitalism has done, not only to the oft-cited billions who have been pulled out of poverty in the last half-century, but to all the rest of us who have also escaped poverty and deprivation over the last two and a half centuries.
But we need to think about repairs for democratic capitalism, either by fixing what is broken, or by making changes to head off the threats; indeed, I believe that those of us who believe in social democratic capitalism should be leading the charge to make repairs. As it is, capitalism is not delivering to large fractions of the population; in the US, where the inequalities are clearest, real wages for men without a four-year college degree have fallen for half a century, even at a time when per capita GDP has robustly risen. more>