Industrial design company uses NX to set new standards of performance and consumer appeal in rideable technology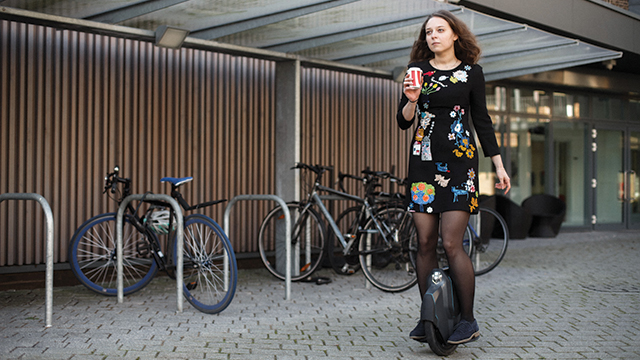 Siemens – Subtle weight transfer may be the key to gliding casually through the urban environment on an electric unicycle, but thoughtful design is the key to comfort and performance. It was an industrial design ethos that prompted Uniwheel to set about transforming a generic unicycle design into one that is both ergonomic and reliable.
"We were aware that most of the electric unicycles on the market followed a rather simple design: internal electronics inside a clamshell with square pedals sticking out," explained Steve Milton, company director and chief executive of the London-based company. "User feedback revealed that the rather boxy shape hurt the legs. We, therefore, set out to provide a comfortable, safe and enjoyable user experience."
Uniwheel's aim was to be the first to market with a design that was thoroughly thought through. That target was met at the end of 2015 when the company launched its first consumer product, just seven months from the first concept. The use of NX™ software from product lifecycle management (PLM) specialist Siemens Digital Industries Software was fundamental to the success and speed of the entire development project.
From first concept, the design team began using NX to create basic 3D models of elements such as the external styling of the plastic case, which has integrated lighting; the metal for the pedals and motor; and fine details such as the grip on the surface of the pedals. The main challenge was to package the sophisticated electronics and software, the removable battery packs, the motor and the wheel housing. Allocating appropriate spaces for the wiring looms was critical. With an emphasis clearly on the ergonomics of the main casing, 3D curves had a big role to play. "NX styling is great; the surfacing capabilities are really comprehensive," comments Carson Brown, designer. more>
Related>