The principle of a European minimum wage is established. How it should be set is not.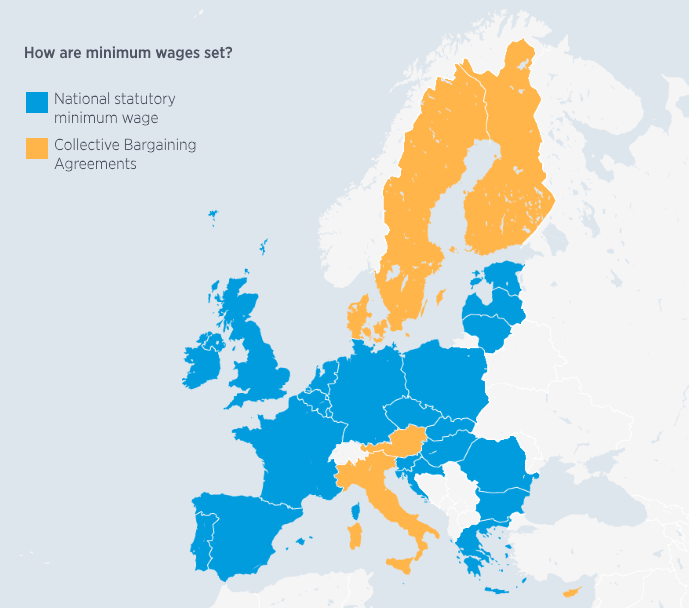 By Torsten Müller and Thorsten Schulten – In June the European Commission published a further consultation paper on possible measures to introduce fair minimum wages in the European Union. The commission thereby launched the second phase of an official consultation of European trade unions and employers' organizations, ending this month, with a view to presenting a proposal for a legal instrument in the autumn. It remains open, however, what exactly the commission means by 'fair minimum wages' and how they can be guaranteed.
After years of political discussion, the central question is no longer whether a European minimum-wage regulation will be introduced but in what form: a non-binding recommendation, a binding directive or a combination. Otherwise, the discussion focuses mainly on the level of the minimum wage, its scope (given numerous national exceptions), the procedures and criteria for its regular adjustment, and the involvement of trade unions and employers' associations in setting it.
The commission's objective is to develop common European standards on all these points. In view of the great differences across Europe, however, the commission is explicitly not seeking to introduce a single European minimum wage, nor to harmonise existing minimum-wage regimes.
In concrete terms, this means that countries in which minimum wages are set by collective agreements, such as Austria and the Nordic countries—Denmark, Finland and Sweden—as well as Italy and Cyprus, will not be forced to introduce a statutory minimum. The basic idea is to define common criteria for fair minimum wages at European level, implemented at national level according to prevailing customs and practices. The challenge then lies in defining the criteria for an appropriate minimum wage. more>