Electronics manufacturer controls its production with plant simulation
Siemens Manufacturing Karlsruhe uses the Plant Simulation solution in the Tecnomatix portfolio within the framework of its continuous improvement process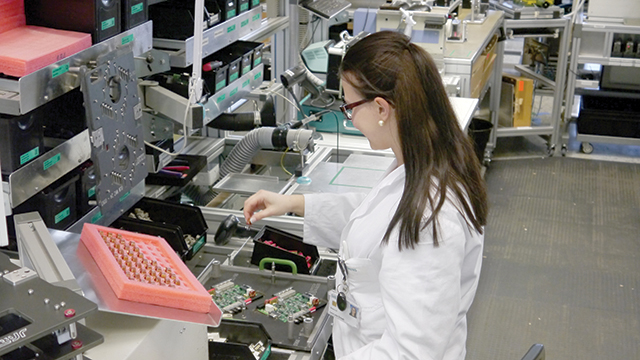 Siemens – Electronics can be produced in Germany at competitive market prices only as long as the manufacturing process is continuously improved. For this reason, the Siemens Manufacturing-Karlsruhe (MF-K) plant introduced the Plant Simulation solution in the Tecnomatix® portfolio to support the company's continuous improvement process. Today, not only are production lines simulated before they are built, but workers actually control daily production using the software.
"Our mission is 100 percent quality, 100 percent delivery performance and 100 percent waste-free," says Bernd Schmid, plant manager at Siemens MF-K. "That means we want to manufacture our products with as few resources as possible. This requires that the manufacturing processes operate how we envision them to. Plant Simulation is a big help to that end." For its consistent use of simulation software, Siemens MF-K was recently named one of the winners of "100 Places for Industry 4.0 in Baden-Wuerttemberg." The jury of experts recognized the company for practical concepts that intelligently combined production and value chains.
Siemens MF-K is a prime example of the challenges that manufacturing companies are mastering with the help of Industry 4.0: a high degree of variance, continuously shrinking batch sizes and fluctuations in order volume that are increasingly difficult to predict.
For example, the plant manufactures 125,000 industrial personal computers (PCs) per year, but the average batch size per order is a mere 1.8. From 90 million different possible variations to choose from in the configurator, approximately 10,000 are actually used. The life of an industrial PC generation is 2.5 years − short compared to the proven SIMATIC controllers, but long compared to industrial communications where a new product has to be produced every two days. more>
Related>