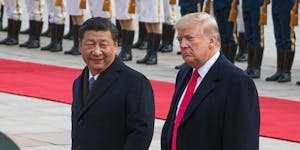 By Hui Feng – Few would have thought a US-China relationship marked by relative stability for half a century would be upended in just four years.
But US President Donald Trump's privileged tour of the Forbidden City in November 2017 by Chinese President Xi Jinping now looks like it happened in a bygone era, given the turbulence in the bilateral relationship since then.
The shift in the US's China policy is no doubt one of the major legacies of the Trump administration's foreign policy, alongside a renewed peace process in the Middle East.
When Trump's daughter Ivanka said at the Republican National Convention that "Washington has not changed Donald Trump, Donald Trump has changed Washington". This would certainly include its handling of China.
Although China's rise had been a concern of the previous Bush and Obama administrations, it was the Trump administration that transformed the entire narrative on China from strategic partner to "strategic competitor", starting with its National Defense Strategy report released just one month after Trump's 2017 China visit.
This read, in part,
China and Russia want to shape a world antithetical to US values and interests. China seeks to displace the United States in the Indo-Pacific region, expand the reaches of its state-driven economic model and reorder the region in its favor.
This new way of thinking deemed the US's decades-long engagement strategy, deployed since President Richard Nixon in the early 1970s, a failure.
Prior to Trump, the US had sought to encourage China to grow into a responsible stakeholder of a rules-based international order.
But the Trump administration believes such "goodwill" engagement has been exploited by China's "all-of-nation long-term strategy" of asserting its power in the Indo-Pacific region.
According to the Trump administration, this is centered on "predatory economics" in trade and technology, political coercion of less-powerful democracies and Chinese military advancement in the region. more>