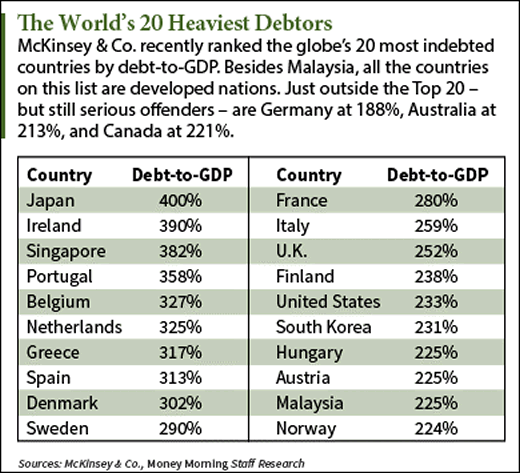 By Kaushik Basu – Over the last decade, the world economy has experienced a steady build-up of debt, now amounting to 230 percent of global GDP. The last three waves of debt caused massive downturns in economies across the world.
The first of these happened in the early 1980s. After a decade of low borrowing costs, which enabled governments to expand their balance sheets considerably, interest rates began to rise, making debt-service increasingly unsustainable. Mexico fell first, informing the United States government and the International Monetary Fund in 1982 that it could no longer repay. This had a domino effect, with 16 Latin American countries and 11 least-developed countries outside the region ultimately rescheduling their debts.
In the 1990s, interest rates were again low, and global debt surged once more. The crash came in 1997, when fast-growing but financially vulnerable East Asian economies—including Indonesia, Malaysia, South Korea, and Thailand—experienced sharp growth slowdowns and plummeting exchange rates. The effects reverberated worldwide.
But it is not only emerging economies that are vulnerable to such crashes, as America's 2008 subprime mortgage crisis proved. By the time people figured out what "subprime" meant, the U.S. investment bank Lehman Brothers had collapsed, triggering the most severe crisis and recession since the Great Depression.
The World Bank has just warned us that a fourth debt wave could dwarf the first three. Emerging economies, which have amassed a record debt-to-GDP ratio of 170 percent, are particularly vulnerable. As in the previous cases, the debt wave has been facilitated by low interest rates. There is reason for alarm once interest rates begin to rise and premia inevitably spike.
Among emerging economies, India is especially vulnerable. In the 1980s, India's economy was fairly sheltered, so the debt wave back then had little impact.
Today, India's economy is facing one of its deepest crises in the last 30 years, with growth slowing sharply, unemployment at a 45-year high, close to zero export growth over the last six years, and per capita consumption in the agricultural sector decreasing over the last five years. Add to this a deeply polarized political environment and it is little wonder that investor confidence is rapidly declining. more>