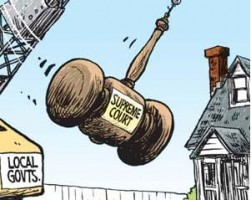 By Adam Barrett – On a finite planet, endless economic growth is impossible. There is also plenty of evidence that in the developed world, a continued increase of GDP does not increase happiness.
Back in 1930 the economist John Maynard Keynes predicted that growth would end within a century – but he was unclear whether a post-growth capitalism was really possible.
Today, mainstream economic thinking still considers growth to be a vital policy objective – essential to the health of a capitalist economy. There remains a concern that ultimately, a capitalist economy will collapse without growth.
I recently published new research that suggests a different view – that a post-growth economy could actually be more stable and even bring higher wages. It begins with an acceptance that capitalism is unstable and prone to crisis even during a period of strong and stable growth – as the great financial crash of 2007-08 demonstrated.
I found that an end to growth reduces profits for business owners.
Therefore, if it remains relatively easy for money to flow across borders, then investors might abandon a post-growth country for a fast-growing developing country. Also, businesses are beholden to shareholders keen on growth as a means to rapid profit accumulation.
Some mainstream commentators and economists are now predicting a transition to a post-growth era, whatever our environmental policy – which means the study of post-growth economics is a field which itself will grow. more>