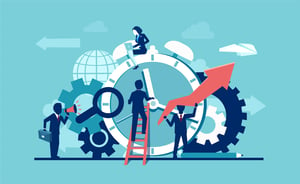 By Warwick J. McKibbin and Adam Triggs – Productivity growth is a shadow of its former self. It's one-tenth of what it was 40 years ago in advanced economies, and even emerging economies are struggling to replicate the growth of the past. As the fundamental driver of long-run living standards, weak productivity growth is a serious problem. Lower living standards, bigger budget deficits, fewer jobs, lower wages, and higher inequality await if things don't improve.
What is most striking about this period of low productivity is that it coincides with enormous advances in technology. An extra 3.5 billion people have gained access to the internet. The processing power of computers has increased exponentially while their cost and size have plummeted. Smartphones have multiplied, and online businesses have flourished. Email, GPS and advanced software have become widespread. The sharing economy is unlocking the full potential of idle cars and empty rooms and houses. Information and communication technologies (ICT) and artificial intelligence (AI) have reshaped many industries. The accumulated history of human knowledge is now at our fingertips.
Robert Solow famously remarked that "you can see the computer age everywhere but in the productivity statistics." Economists have put forward a variety of explanations for the so-called "Solow paradox," each of which implies a radically different path for productivity growth in the future. Our chapter in the just-published book "Growth in a Time of Change" models each of these possible scenarios to explore what the world might look like depending on who turns out to be correct.
Let's start with the optimists. Some economists, like the 2018 Nobel Laureate William Nordhaus and Iraj Saniee and his co-authors at Nokia Bell Labs, point to historical data showing long lag times between technological advances and increases in productivity. For these economists, a big surge in productivity is just around the corner.
If the optimists are correct and global productivity growth takes off rapidly, many of the world's problems go away. Investment, wages, and employment rise sharply. GDP increases and inequality declines. While all sectors experience an investment boom, the durable goods sector experiences the largest increase. The sharp increase in investment sees an increased demand for investment goods, particularly durable manufactured goods and the energy and mining resources required to produce them. Countries that export durable manufactured goods (such as Germany) and energy and mining resources (such as Australia) benefit significantly. Secular stagnation becomes a thing of the past.
But new challenges emerge. The global economy is a closed system, so the resources to finance this boom in investment and production must come from somewhere: either from increased government savings or from reductions in current consumption. If governments don't act, or if financial market rigidities prevent access to global capital markets, consumption can fall. The shock also triggers transitions that require the redeployment of labor and capital from declining sectors to booming ones. Rigid labor markets and oligopolistic product markets hamper this adjustment. Thus, the full benefits of the boom can be squandered, and its benefits may be short-lived and distributed more unequally between capital and labor.
Now consider the pessimists. Some economists, notably Northwestern University's Robert Gordon, argue that the technological advances in recent decades won't deliver the sort of productivity increases that we saw from the inventions of the last century. Facebook and Netflix are great, but they are no match for electricity and indoor plumbing. more>