Boeing and subsidiary Liquid Robotics team up to explore deeper possibilities for autonomous systems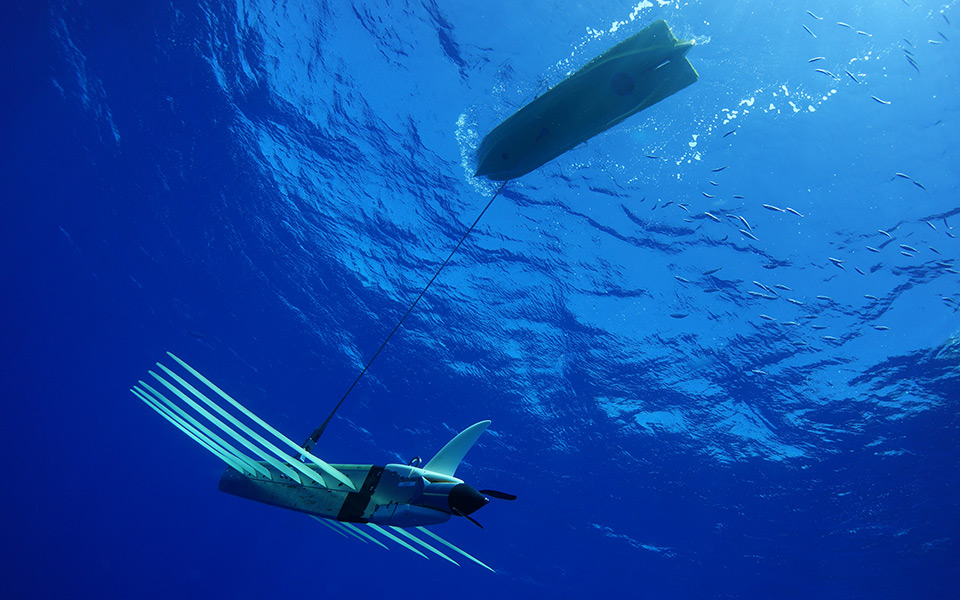 BY Dan Raley – Created by Boeing subsidiary Liquid Robotics, this maritime innovation known as the Wave Glider was originally intended to record the songs of migrating whales. When integrated with Boeing's advanced sensors for defense applications, the Wave Glider can locate undersea vehicles at substantial distances, hunt for mines, monitor land radar, and gather and relay data to other systems, all while operating on solar and wave power for months at a time.
"It's a hidden treasure," said Jim Bray, Boeing autonomous systems technology integrator in St. Louis. "There's a lot going on under the sea."
Covered with fiberglass panels and small antennas topside and tethered to a wing-like propulsion system beneath it called a sub, the Wave Glider communicates by low-Earth-orbit satellite through a command-and-control unit and surface radio modem, similarly to someone sending a text message by smartphone.
"It's revolutionary stuff," said Scott Willcox, Liquid Robotics technology lead. "It's like reinventing the sail — fundamentally, it's a new way to get around the ocean. What you can do with it is almost limitless."
In Ventura, Calif., in July, seven months after Boeing acquired Liquid Robotics, the companies teamed to test new Wave Glider capabilities in the ocean that would be presented to a customer for the first time. The testing demonstrated how transponders placed on the ocean floor by the Wave Glider conceivably could provide an oceanic GPS. An unmanned undersea vehicle in need of updating its location could use these underwater acoustics to determine where it is and never have to surface. more>