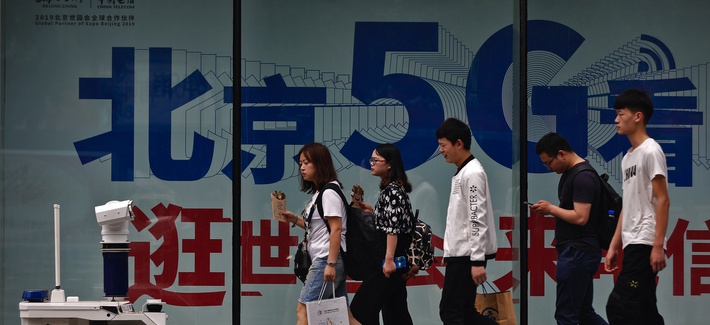 Amid this much public indifference, 5G may seem like an unlikely battleground between China and the West. Yet the transition to 5G may mark the point, after decades of Chinese integration into a globalized economy, when Beijing's interests diverge irreconcilably from those of the United States, the European Union, and their democratic peers. Because of a failure of imagination, Western powers risk capitulating in what has become a critical geopolitical arena.
Simply put, neither the American nor the European public seems to view the networks that supply Snapchat clips and Uber cars as anything close to a security threat.
Some of the world's leading telecom-equipment manufacturers, including Huawei and ZTE, are Chinese companies with murky ownership structures and close ties to China's authoritarian one-party government.
Many in the U.S. national-security establishment rightly fear that equipment made by these companies could allow Beijing to siphon off sensitive personal or corporate data. Or it could use well-concealed kill switches to cripple Western telecom systems during an active war.
The mere threat of this activity would endow China's leadership with geopolitical leverage at all times.
Source: 5G Is Where China and the West Finally Diverge – Defense One